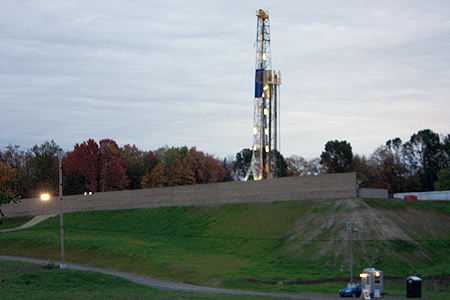 SALEM, Ohio — The first Ashtabula County permit for a Utica shale well was issued in June.
The Ohio Department of Natural Resources issued a permit to BeUSA Energy LLC for a well site in Wayne Township.
Trumbull County
Drilling also appears to be moving ahead in Trumbull County. The ODNR issued three horizontal drilling permits in Vernon, Warren and Mecca townships.
Brammer Engineering applied for the well in Vernon Township, Halcon Operating Company has plans to drill in Warren Township, and BP America was issued a permit to drill in Mecca Township.
Carroll County
Carroll County was again the county with the most permits issued during the month. A total of 24 permits were issued and all but five were issued to Chesapeake Exploration. The remaining five were issued to RE Gas Development LLC in Washington Township.
A total of 10 permits were issued for sites in Lee Township and the others were divided between Loudon, Perry, Fox and Washington townships.
More than 100 wells are in the drilled phase in Carroll County and 58 are reportedly producing.
Harrison County
Harrison County also continues to be a popular place for drilling permits, with a total of 12 issued in June.
Hess Ohio Development LLC received four permits in Cadiz Township and four in Archer Township.
Three permits were issued to Gulfport Energy Corp. for sites in Moorefield Township. A single permit was also issued to Chesapeake Exploration for a well in German Township.
Belmont County
Belmont County also had a surge in permits issued during June. Thee were nine permits issued, with eight in Somerset Township to Gulfport Energy Corp. and one to Hess Ohio Resources LLC in Colerain Township.
Noble County
In Noble County, there were six permits issued. The permits were issued to Antero Reserve Appalachian Corporation for two separate sites in Seneca Township.
Columbiana County
The ODNR issued three separate permits to Chesapeake Exploration for different sites in Columbiana County. There were permits issued for sites in Salem, Hanover and Franklin townships.
Guernsey County
In Guernsey County, three permits were issued for Utica shale wells. One was issued to EQT Production Company in Spencer Township and two were issued for wells to be drilled by PDC Energy Inc. in Wills Township.
Jefferson County
Chesapeake Exploration was issued two permits for drilling wells in Springfield Township in Jefferson County.
Single permits
Meanwhile, single permits were issued for drilling in Mahoning and Monroe counties. One permit was issued to Hilcorp Energy Company in Poland Township in Mahoning County and a permit was issued to Triad Hunter LLC. for a well site in Lee Township. Monroe County.
As of June 28, there were 32 drilling rigs in Ohio.
So far, there are 756 horizontal permits issued for Utica shale wells in Ohio and 374 wells have been drilled. There are currently 109 Utica shale wells producing in Ohio.
Pennsylvania
The Pennsylvania Department of Environmental Protection issued 247 permits for unconventional wells (shale) during June.
In the Farm and Dairy circulation area, the Pennsylvania DEP issued 44 permits for Bradford County where the shale boom began several years ago.
There were 27 permits issued in June for Butler County.
There were 21 permits issued for new wells in Washington County; two permits issued for Beaver County, six in Greene County and one in Lawrence County.
A snippet of the permit list shows that seven permits were issued to Anadarko E&P Onshore LLC., four were issued to Cabot Oil and Gas Corporation, two were issued to Chesapeake Appalachia LLC. and 14 were issued to Chevron Appalachia LLC.
A total of 15 permits were issued to CNX Gas Co. LLC; six were issued to EQT Production Co.; one was issued to Hilcorp Energy Co.; 10 were issued to Range Resources Appalachia LLC.; two were issued to RE Gas Development LLC.; three were issued to SWEP LP (a division of Shell) and one to XTO Energy Inc.
Pennsylvania drilled wells
Meanwhile, the Pa. DEP reported two shale wells were drilled in Armstrong County; three in Bradford County; five in Butler County; four in Fayette County; 11 in Greene County; 31 in Washington County and five in Westmoreland County during June.
West Virginia
The West Virginia Department of Environmental Protection, also reported a permit was issued to Chesapeake Appalachia, LLC. for drilling in Ohio County on a farm owned by Roy E. Ferrell.
The permit list also shows permits were issued to Noble Energy Inc. for three separate farms in Marshall County. The farms are owned by Russell and Barbara Bennett, Lucille Hartley and George and Antoinette Silvert.
In Wetzel County, the W.Va. DEP issued permits for wells to be drilled on six different farms. Chesapeake Appalachia, LLC will be drilling on a farm owned by William D. and Shirley Ritchea and property owned by Ridgetop Capital, LP.
Stone Energy Corporation will be drilling three wells on sites owned by James Greathouse; Charles and Ruth Howell; Charles and Gwendolyn Martin; and the Mary Tracy Living Trust.